Nearly 30 years after its Broadway premiere, John Guare's Six Degrees of Separation returned to the Great White Way. The revival of the Pulitzer Prize-nominated play took place at the Ethel Barrymore Theater in the spring of 2017, and featured searing performances from Allison Janney, John Benjamin Hickey, and Corey Hawkins. Read on to learn more.
The show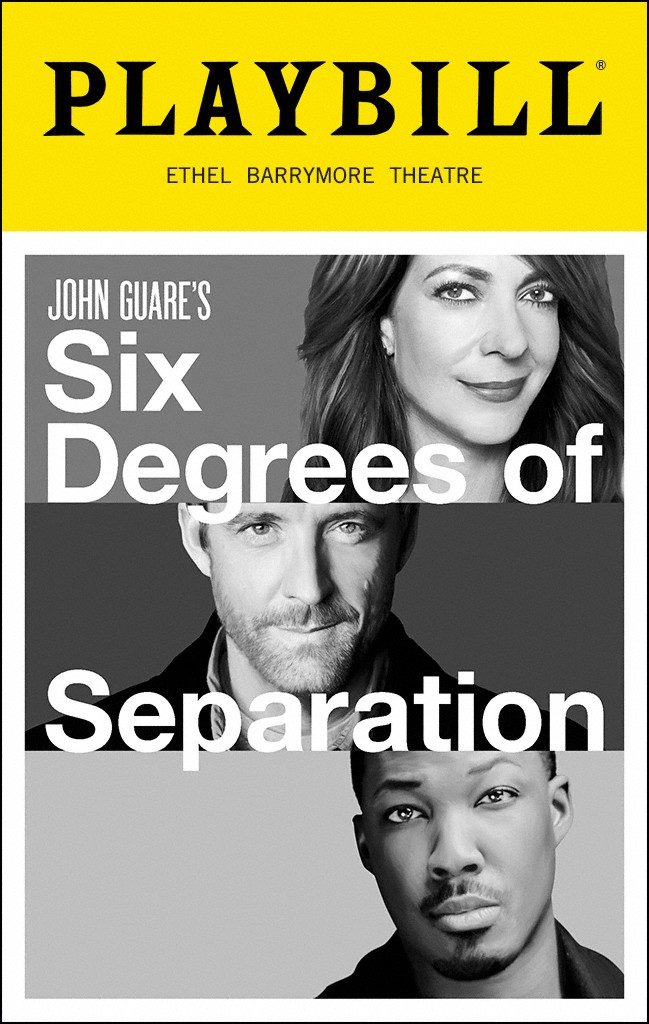 Even if you've never seen a previous version of Six Degrees of Separation or the play's 1993 film adaptation, you're very likely familiar with its title, which became a pop culture catchphrase after the huge success of John Guare's intricately plotted comedy of manners. Inspired by a true story, the play explores themes of interconnectedness and isolation through the story of Ouisa and Flan Kittredge, wealthy and sophisticated New Yorkers who inhabit an insular world of urban privilege. When young African-American con man Paul gains access to their home, and their lives, by claiming to be the son of actor Sidney Poitier and a friend of their university-aged children, the Kittredges are forced to confront the vulnerabilities and insecurities that his presence has revealed. Ultimately, the play asks us to consider how well we can ever really know someone, including ourselves.
The playwright
A graduate of the Yale School of Drama, John Guare began his career writing mostly comic one-act plays, of which one, titled Muzeeka, earned him an Obie Award in 1968. He achieved further success in the world of American theater with his 1971 semi-autobiographical play The House of Blue Leaves, which firmly established his reputation as a unique, highly theatrical playwright concerned with both the comic and the bizarre aspects of the human condition. Six Degrees of Separation, which premiered in 1990, earned Guare an Obie Award, the New York Drama Critics Circle Award, and an Olivier Award; the play was also a finalist for the 1991 Pulitzer Prize for Drama. John Guare was elected to the American Theater Hall of Fame in 1993 and received an Obie Award for Sustained Achievement in 2005.
The creative team
The 2017 revival of Six Degrees of Separation was helmed by director Trip Cullman, whose many Off-Broadway directing credits include Dog Sees God, The Drunken City, Punk Rock, and Significant Other, which later transferred to Broadway after its original premiere at Roundabout Theater Company. Other key members of the creative team included Mark Wendland (scenic design), Clint Ramos (costume design), Ben Stanton (lighting design), Darron L. West (sound design), and Lucy Mackinnon (projection design).
The cast
Although Six Degrees of Separation features a cast of 18 characters, the play is anchored by its three leads: Ouisa, Flan, and Paul. In the 2017 revival, these roles were played, respectively, by:
Allison Janney—Best known for her many film and television roles, seven-time Emmy Award-winning character actress Allison Janney shone in the role of Ouisa, the scattered socialite who yearns for someone to care for. Janney has performed in a variety of Broadway and Off-Broadway shows, and recently won the 2017 Academy Award for Best Supporting Actress for her role in the film I, Tonya.
John Benjamin Hickey—Theater and television veteran John Benjamin Hickey offered a smart and convincing take on Flan, an art dealer who has long since lost his sense of soul. Winner of a Tony Award and a Drama Desk Award for his performance in The Normal Heart, Hickey has appeared in a number of other Broadway and Off-Broadway shows and recently starred in the critically acclaimed television series Manhattan from WGN America.
Corey Hawkins—A graduate of Juilliard, Corey Hawkins has appeared in several major films and television shows, including Straight Outta Compton, which was hailed as his breakout performance; and The Walking Dead. He made his Broadway debut as Tybalt in the 2013 revival of Romeo and Juliet. His performance as Paul, the charming but deceitful con artist in Six Degrees of Separation, marked his second appearance on Broadway.
The producers
The lead producers of the 2017 revival of Six Degrees of Separation included Stuart Thompson, producer of the Tony Award-winning shows The Book of Mormon, God of Carnage, and Proof; and Louise Gund, Tony Award winner for All the Way, and producer of other Broadway shows including Sweat, Head Over Heels, and Fiddler on the Roof.
Critical and audience response
Critics were thrilled at the return of this seminal play to the Broadway stage after nearly three decades. Although there was much prior speculation about whether the satire would feel dated given the huge technological, social, and political changes that have taken place since 1990, reviewers found the revival to be "elegant," "fresh and immediate," and "crazy good." While all the lead performers won praise, it was Allison Janney's performance as Ouisa that earned unanimous acclaim from critics: reviewers called her "memorable," "firmly grounded," "uncommonly sensitive," and "spectacular," and praised her "wicked, smart delivery."