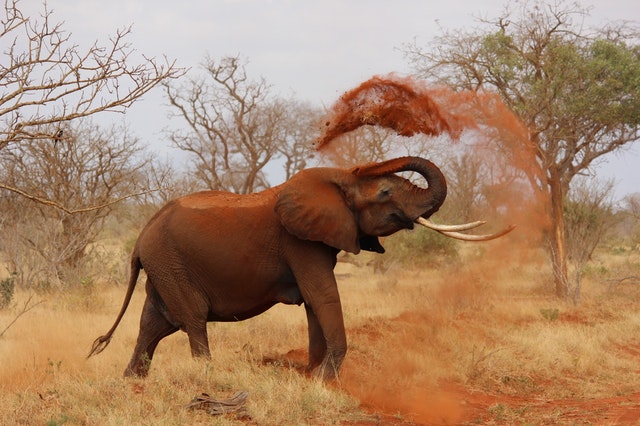 In 2020, Singapore observed World Elephant Day, which takes place every year on August 12, by destroying a large cache of illegal ivory its government had seized. The crushing of the 9 tonnes of ivory is estimated to be the biggest such wildlife contraband destruction in recent years, with a total estimated value of $13 million USD. In previous recent years, Singapore and neighboring Malaysia seized ivory cargos of similar size. 
Singapore has long been a lynchpin in the illegal international trade in animal products, due to its location on trade routes connecting Africa and Asia. However, the city-state has made recent decisions focused on keeping illegal foreign ivory out of its borders. These actions have helped disrupt the supply chains that move contraband ivory around the globe. Singapore additionally plans to officially ban further domestic trade in ivory by September 2021.
Much of the demand for ivory products originates in Asian countries such as China, where a rising middle class looks to purchase ivory pieces fashioned into decorative objects and accessories, often as marks of personal status.
Experts believe that this human passion for ivory causes some 100 African elephant deaths at the hands of ivory poachers every day. In addition, due to the lucrative illegal trade in ivory that continues to persist through established networks, poaching of elephants has reached crisis proportions. Researchers believe that only about 400,000 African elephants remain in the wild.
However, an innovative idea from an American biologist and academic has given environmentalists, international law enforcement, and animal rights activists a new-found tool that might throw a giant monkey wrench in the worldwide illegal ivory trade.
Introducing the "guru of doo-doo"
Dr. Sam Wasser is a professor in the Department of Biology at the University of Washington and the director of the university's Center for Conservation Biology. Acclaimed worldwide as the "guru of doo-doo," Wasser has for decades conducted pioneering work into methods of tracing the abundance, dispersion, and population movements of wild animals by analyzing their scat.
The non-invasive tools Wasser has created have enabled scientists to better measure the influence of environments and human activities on wildlife, and have helped fill in gaps in our understanding of topics such as animal migration and wildlife population health. By studying the DNA he extracts from animal feces, he can provide highly detailed reports on the conditions affecting a wide range of endangered species—including elephants.
The science of saving elephants
About 20 years ago, Wasser started work on a project using data drawn from the DNA in dung to plot out a map of elephant genetic distribution. He noted that elephant populations in different areas can be distinguished from one another by the variety of genetic mutations each one carries.
Wasser has used the DNA from elephant dung to create a map that shows which mutations can be found where. Then, by analyzing the DNA in an ivory sample, Wasser can trace it back to the individual elephant's home region, using the dung map. This technique allows researchers to pinpoint the location where an animal was killed.
He can also use these methods to conduct forensic analyses to determine with great precision the locations of dense ivory poaching activity and other transnational crimes against wild species.
One former leader in the Interpol unit dealing with wildlife crime has said that Wasser should receive a Nobel Prize for his work. He has received financial support for these life-saving efforts from the United Nations Office on Drugs and Crime and the U.S. Department of State, among other organizations.
In October 2015, Wasser traveled to Singapore to help solve the mystery surrounding a horde of seized ivory, a haul consisting of about 1,700 tusks. He logged the physical characteristics of each piece of ivory, including the manmade markings that may have identified individual merchants or poachers.
As Smithsonian Magazine recounted the fascinating story, Wasser used a pair of circular saws and other hardware to start cutting small sections of the ivory—some weighing less than one pound—away for examination. Wasser remembered his frustration and anger at seeing the mountain of tusks that had been recovered. Some were so tragically small that he wondered why a poacher had even bothered to kill the animal. He found that the cache was probably the result of about 1,000 elephant deaths.
Over this career, he has been able to point out the biggest hotspots for ivory poaching, and uncover new information about the growth and profusion of major ivory trafficking rings throughout the African continent and the world.
Of particular interest to international crime-solvers is the fact that Wasser's work has shown that much of the illegal ivory on the market today derives from only two "hotspots." In one study, his team found that upwards of 85% of the forest elephant ivory seized between 2006-2014 originated in a protected ecosystem in northeastern Gabon, northwestern Republic of Congo, and southeastern Cameroon. The researchers also found that a similar percentage of savannah elephant ivory seized during the same timeframe could be traced to two game reserves in southeastern Tanzania and northern Mozambique.
Wasser's work has produced the satisfying result of aiding in the arrest of several high-profile ivory dealers in both Africa and Asia. It also provides hope that we may continue to develop technologies that halt poachers in their tracks and eliminate a serious threat to the survival of elephants as a species.