Two decades after it was first produced Off-Broadway at the Manhattan Theater Club, the charming canine comedy Sylvia, by celebrated American playwright A.R. Gurney, made its Broadway debut in a revival at the Cort Theater. During its limited-engagement run from October 27, 2015, to January 3, 2016, Sylvia offered audiences a moving and gently comic look at the chaos wrought in the lives of a long-married couple by the unexpected arrival of a smart and sassy new dog. Read on to learn more about the production.
The show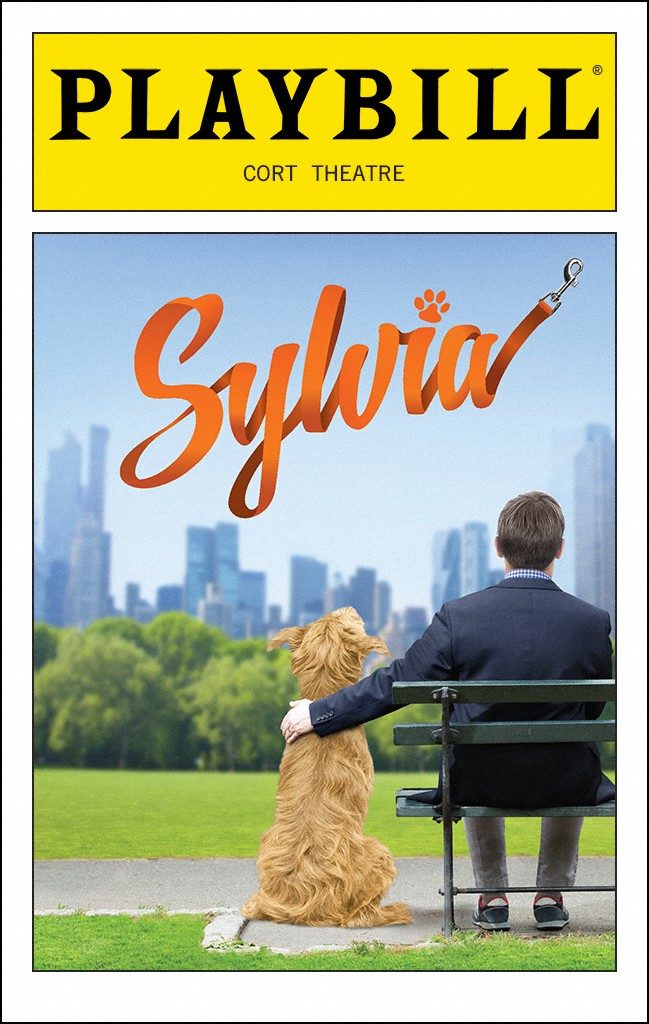 In Sylvia, which premiered in 1995, playwright A.R. Gurney gives a playful twist to the classic tale of a midlife crisis. The story takes place in the 1980s on Manhattan's Upper West Side. Middle-aged Greg is a lonely empty-nester who is dissatisfied with his job and increasingly distant from his career-oriented wife. Greg has just met another woman who's about to turn his life upside down—but the twist is that, in this case, the "other woman" isn't a woman at all, but an adorable stray dog who befriends Greg in Central Park. Sylvia, who is played by a human actor, promises to fill Greg's life with all the things he feels it is missing: fun, energy, and above all, adoration. But when Greg decides to take Sylvia home and, moreover, becomes increasingly obsessed with their relationship, he must deal with the unexpected consequences that her presence in his home has on his longstanding marriage.
The playwright
Playwright A.R. Gurney, who passed away in 2017 at the age of 86, was one of the best-known and most prolific chroniclers of upper-class WASP (white, Anglo-Saxon, Protestant) life in 20th century America. A graduate of the Yale School of Drama, Gurney wrote many of his plays while also working as a professor of humanities and literature at the Massachusetts Institute of Technology. In the early 1980s, Gurney achieved his first major success with The Dining Room, a comedy of manners that was a finalist for the 1985 Pulitzer Prize for Drama, and whose success allowed Gurney to write full-time. Among his many other plays are the audience favorite The Cocktail Hour and the hugely popular hit Love Letters, which was a finalist for the Pulitzer in 1990 and has since been produced countless times around the world.
The creative team
The Cort Theater production of Sylvia was helmed by director Daniel Sullivan, whose many Broadway credits include Glengarry Glen Ross, The Merchant of Venice, Rabbit Hole, and Proof, for which he received the 2001 Tony Award for Best Direction of a Play. Other key members of the creative team included David Rockwell (scenic design), Ann Roth (costume design), Japhy Weideman (lighting design), and Peter Fitzgerald (sound design).
The cast
The four actors appearing in the Cort Theater production of Sylvia were:
Matthew Broderick (Greg)—Best known for his wide range of films, including the 1980s classic Ferris Bueller's Day Off, Matthew Broderick has been a fixture on Broadway for decades. He was nominated for a Tony Award and a Drama Desk Award for his performance in The Producers in 2001, and was a Tony Award-winner in 1983 for Brighton Beach Memoirs and in 1995 for How to Succeed in Business Without Really Trying.
Julie White (Kate)—Julie White is a Tony Award-winning performer for her role in The Little Dog Laughed (2007); she has a wide range of Broadway, Off-Broadway, film, and television credits to her name. Her selected Broadway roles include Nora in A Doll's House, Part 2; Tanya in Airline Highway; and Masha in Vanya and Sonia and Masha and Spike. She dedicated her performance in Sylvia to her Pomeranian, Lulu.
Annaleigh Ashford (Sylvia)—Annaleigh Ashford made her debut in 2003 as Glinda in Wicked. Since that time, she has performed on Broadway in Legally Blonde, Hair, Kinky Boots, and You Can't Take It With You, for which she won a Tony Award and a Drama Desk Award in 2015. Interestingly, the role of Sylvia in the 1995 original production was originally played by Sarah Jessica Parker, the real-life wife of Ashford's fellow cast member Matthew Broderick.
Robert Sella (Leslie/Tom/Phyllis)—A graduate of UCLA and Juilliard, Robert Sella has performed at Hartford Stage, Shakespeare Theater, and CST Chicago, as well as various Off-Broadway and Broadway venues. His selected Broadway credits include Chitty Chitty Bang Bang, Cabaret, and My Fair Lady.
Critical and audience response
Sylvia enjoyed a positive audience response, and the critical response was positive as well: reviewers applauded the production's charm, wit, and engaging performances. In particular, critics were united in their admiration for performer Annaleigh Ashford in the title role, calling her "spectacular," "absolutely wonderful," "enormously expressive," and "genuinely irrepressible." Meanwhile, Matthew Broderick was commended in Newsday for his "most engaged and endearing performance in a long time."