A number of recent studies have shown that domestic cats play a major role in the deaths of birds and other small, wild creatures in communities across the world.
A group of scientists from North Carolina State University, working alongside colleagues at the North Carolina Museum of Natural Sciences, published the results of a study in April 2020 in which they used GPS tracking to monitor how far some 900 pet cats living in several different countries—mostly in the United States, Australia, New Zealand, and the United Kingdom—wandered over the course of a typical day. They learned that cats tend to stay close to home. The typical pet cat studied roamed around only in its own backyard and in those of a few neighbors.
The cat owners who volunteered to participate in the project allowed their cats to be tracked by GPS and recorded the number and types of wild prey that each cat brought home over the course of the study period.
Wildlife advocates may think that the typical house cat's relatively small range is a good sign. However, the researchers also looked at the amount and volume of prey that the pet cats killed within those small areas. They found some cats that routinely brought home kills of a dozen or so birds, reptiles, or rodents every month. The total doesn't factor in any of the prey that the cats simply ate or left lying on the ground.

The sobering conclusion of the North Carolina researchers: By allowing so many domestic cats to roam freely outdoors, humans are destroying the very biodiversity that they claim to want to protect. The human cost of this loss of biodiversity includes the disappearance of simple pleasures like hearing the joys of birdsong, as well as the practical loss of the natural pest-control functions of lizards and other reptiles.
Even for people who can't imagine their beloved pets as predators, all this adds up to a grim prospect for numerous animal species.
A danger to birds and other small mammals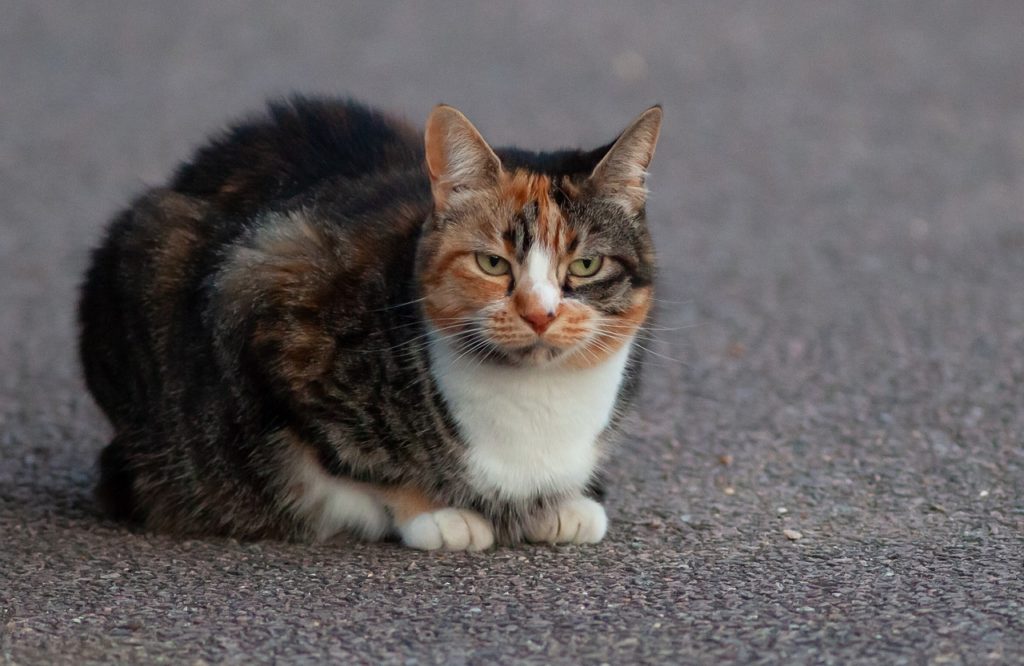 The presence of so much depredation in such a small area really does add up to a significant problem. Although in terms of sheer numbers, the effects of domestic cats' attacks on wild animals was smaller than those of wild predators, the concentration of their kills had a far greater local impact. So, as the density of an area's cat population increases, so too does the risk to wildlife.
The North Carolina research team translated its findings into colorful graphics, using owner-supplied headshots of each cat and superimposing them on street maps showing the areas of each animal's usual territory. While "Pringles," "Little," "Picchu" and the other cats in the Durham, North Carolina, community under investigation may appear harmless, their images are accompanied by color coding that unmistakably shows the intense level of predation against birds and small mammals within each of their neighborhoods.
The big picture? The scientists estimate that the average outdoor house cat produces anywhere from four to 10 times the deadly impact on wild animals that a wild predator does. And the most significant damage results when there is an overlap of humans and their domestic cats with native species whose population numbers are already low.
An invasive species
Another study, published in the journal Nature in 2013, estimated that domestic cats—including those with homes and those that are feral—are responsible for the deaths of billions of birds each year. Specifically, the study's authors estimated that cats may kill as many as 4 billion birds and up to 22 billion small mammals in the United States every year. The researchers also surmised that these free-ranging felines are probably the greatest living predators of birds and mammals in the country.
The study also found that, on average, domestic cats slaughtered anywhere from about 14 to 39 wild birds or animals for every 100 acres of land each year. Additionally, most of the harm to wild prey by cats occurred within subdivisions and other human-developed areas.
The 2013 study also pointed out that roaming cats have demonstrated a particular ability to be the cause of the extinction of species on islands, which have their own distinct ecosystem. Many scientists, in fact, have classified domestic cats as among the world's 100 most dangerous invasive species.
The search for a solution
But, if a cat owner can't keep its pet indoors, what's the solution? Experts offer a few options, some of which may prove more viable than others.
One cat owner, who also happens to be a bird biologist, was horrified to find her own rescue cat bringing home numerous slaughtered birds. She tried the traditional method of attaching a bell to her pet's collar, but still saw a problem. Then she got a big, brightly colored collar, which she described as looking like the oversized collars worn by humans in Elizabethan times. The idea was to make sure it was big and bold enough for birds to see it and be scared off. After testing this type of collar on her cat and others in her neighborhood, the biologist noted that it seemed to have a significant effect in reducing the number of bird deaths in the area. On the other hand, small mammals still didn't stand a chance, probably because rodents are color-blind. As for the biologist's cat? Eventually, he grew into a contented indoor cat, which goes to show that positive behavioral changes are always possible—even for one of nature's deadliest predators.