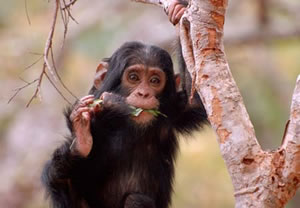 Almost 60 years ago, British-born primatologist, anthropologist, and ethologist Jane Goodall first made camp near Gombe Stream in Tanzania. At the time, she was an enthusiastic young researcher just starting out on her lifelong pursuit of insights into primate behavior.
She would go on to earn a doctorate in her subject and to dedicate herself to preserving the environmental quality of the earth for all its inhabitants. In June 2020, the Jane Goodall Institute, whose work she continues to direct, will celebrate the Gombe Stream Research Center's milestone anniversary. Here's what you need to know:
1. Its research has contributed to our understanding of nonhuman primates.
Today the Gombe Stream Research Center, a core part of the Institute, continues to produce research that builds on Goodall's own groundbreaking early insights. It was her work that first proved chimpanzees were capable of making and using tools.
Her discoveries confronted her colleagues at the time with the sudden realization that "Man" was not the only toolmaker on the planet. In fact, Goodall's research and observations on this point transformed the world of science and expanded human understanding of just how much like us our nearest relatives really are.
Significantly, Dr. Goodall's original study of the wild chimps of the Gombe Stream region was also the first-ever body of research to describe the individual emotions and personalities of nonhuman animals. Thanks to her painstaking research and her empathetic, respectful approach, the fields of ethology and primatology have greatly enlarged their points of view and their methodologies over the past six decades.
2. It continues to support groundbreaking research.
Recent accomplishments of the Gombe Stream Research Center team include innovative, non-invasive procedures for checking the health of chimpanzees; work that analyzes how the HIV-like Simian Immunodeficiency Virus (SIV) affects chimps; an examination of how mother chimps' stress levels affect their babies; and a program using Geographic Information System mapping and satellite images to gauge environmental conditions surrounding great ape communities.
All of this research and documentation informs the ongoing conversation about how to best safeguard the chimps of the region, as well as how to conserve their environment for the benefit of animals and humans alike. Side-by-side with these projects, the Center has produced more than 15 separate publications in its most recent year alone.
3. It has incorporated technological advancements into its research projects.
On the occasion of the 55th anniversary of the Gombe Stream Research Center, Dr. Goodall noted, in a video interview, how proud she was of her team's chain of unbroken research over the course of decades. She remembered how her initial research tools consisted of nothing but a notebook and a pencil—aided, of course, by her own keen powers of observation and documentation. The Gombe Stream Research Center began as the site of a few tents, from which it expanded gradually and organically. After the National Geographic Society provided help in the form of pre-fabricated aluminum structures, it became a true "center."
In the years since, the Center's team has made use of advances in technology to further its work. This includes checksheets, tape recorders, video cameras, and email, as well as tablet devices that can instantly analyze samples of animal waste to produce DNA tracings of entire family groups—information that Dr. Goodall had previously only dreamed of obtaining. Today, technological advancements developed at NASA and Google Earth are used to generate detailed environmental maps of entire chimpanzee habitats.
4. It collaborates with and benefits nearby human communities.
In the video, Dr. Goodall also remembered how she flew over the Gombe Stream area for the first time in the late 1980s. From the small plane, she saw with shock how the once thickly forested regions surrounding Gombe Stream National Park had become environmentally decimated.
She realized then that the only way to save the chimps she loved, and their habitat, was to partner with local human communities and organizations. Her team has reached out to provide healthcare and other services for local villages. It has also helped community members—who are often not able to write in their native languages—to develop skills as forest monitors who use tablets to record data.
5. It is a "living laboratory" that celebrates its primate inhabitants.
Gombe, Dr. Goodall has remarked, is an extraordinary "living laboratory" dedicated to preserving the environment of the world's most-studied community of chimpanzees. The original families of chimps she worked with have over the decades produced multiple new generations of offspring. Many individuals have become celebrities among the center's supporters.
For example, the F-Family line, whose members Dr. Goodall met in her early research, is carried on by a female chimp named Gremlin. She is now almost 50 years old and a matriarch who nurtures her entire group. Gremlin is the mother of twins that the human researchers have named Glitter and Golden, themselves now the parents of a new generation. The researchers currently study more than 300 named chimps that live in the Kasekela and Mitumba community groups.
6. Its work is just beginning.
Thanks to the work of Dr. Goodall at Gombe, we now know that chimps are not only intelligent, but that they are inventive, social, and emotional beings that deserve respect. Supporters of the Jane Goodall Institute and the Gombe Stream Research Center are hopeful that its research—along with the team's dedication to kindness and cooperation—will continue for another 60 years and beyond.