Amid the global fear, panic, plunging markets, massive lockdowns, and lifestyle changes that occurred all over the world due to the novel coronavirus, scientists noted with concern that the great apes are at risk of being infected as well.
The spread of COVID-19, the sometimes-fatal human disease caused by the coronavirus, has now caused scientists and rescue teams to put gorilla communities in the wild on lockdown out of an abundance of caution.
With multiple types of infectious disease being one of the three major threats to several designated species of great apes (the other two being the perennial problems of poaching and habitat destruction), these cautions are well founded.
Human-to-ape transmission of disease
Respiratory infections are currently the second-leading cause of death among gorillas, and the great ape species are susceptible to human diseases. For instance, chimpanzees are known to have been infected by viruses that cause the common cold in humans. And, tragically, scientists believe that the Ebola virus has killed thousands of gorillas and other African great apes over the past few years. In 2016 another member of the coronavirus family of human infections was transmitted to wild chimps in Ivory Coast.
Over the past 12 years, since the first-ever direct transmission of a virus from humans to wild apes was diagnosed, scientists have documented several deadly outbreaks of human respiratory infections in great ape populations that commonly interact with people.
Putting safety measures in place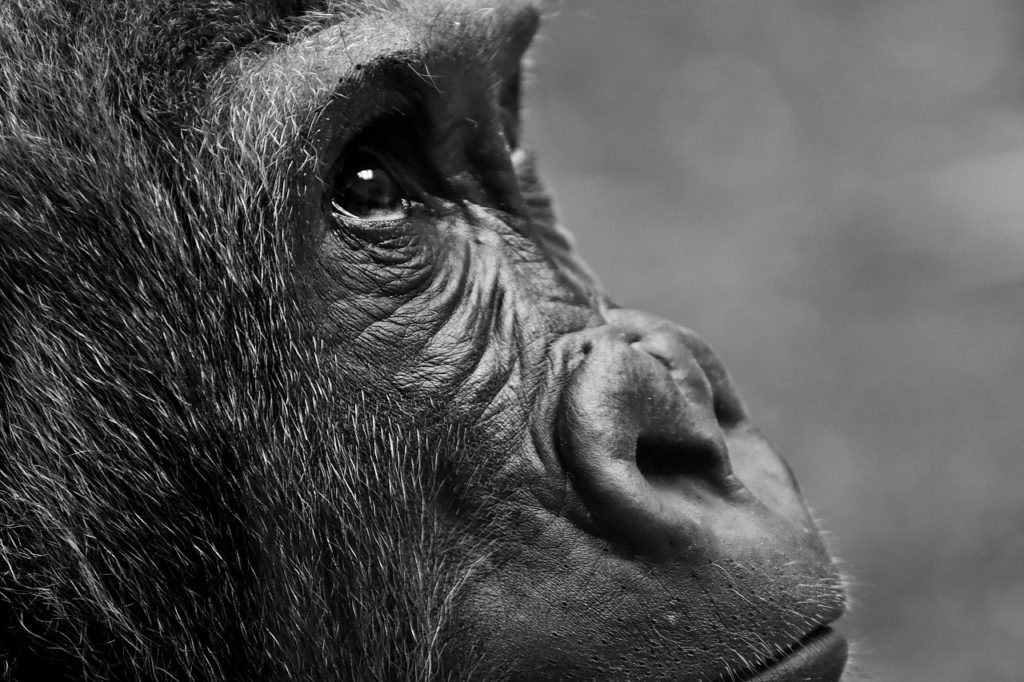 Veterinary experts have noted that, as difficult as it is to quarantine an entire human population with stay-at-home orders, freely ranging bands of great apes in the wild are even harder to isolate.
But humans are trying, putting extra precautions in place as they work with the endangered mountain gorillas of Rwanda, the same populations studied and loved by the late primatologist Dian Fossey.
The three countries that are home to mountain gorilla populations—Rwanda, Uganda, and the Democratic Republic of the Congo—have all diagnosed coronavirus infections in humans living within their borders. Therefore, gorilla tourism experiences, and other ecotourism programs in gorilla country, have been temporarily halted throughout the region.
Since humans who pursue ecotourism and other wilderness trekking activities tend to be younger and healthier, if they had coronavirus, they would likely be asymptomatic or pre-symptomatic carriers, so it would be almost impossible to track and monitor them to safeguard the great apes from the disease.
The veterinary staff and national park rangers who provide regular care for gorillas in the African wilderness have also taken extra precautions in their work. Rangers wear masks and use hand sanitizer regularly. Their teams practice social distancing from the gorillas, and they self-quarantine if they show signs of having been infected.
New guidelines on the issue from the International Union for the Conservation of Nature (IUCN) state that humans need to stay at least 10 meters, or about 32 feet, away from wild gorillas, an increase over the standard 7 meters. Most organizations' staff are now conducting their routine check-ins on local gorillas through binoculars.
The IUCN goes on to recommend that human caretakers reduce the number of visits they make to gorillas as much as possible, only interacting with the animals to safeguard their continued wellbeing. In particular, humans who have themselves been sick, or who have been in contact with an infected individual in the preceding two weeks, should avoid being in the vicinity of the animals altogether.
A still-fragile population
The coronavirus crisis happens at a time when mountain gorillas have only recently seen their total population numbers climb over 1,000, taking them off the list of the most critically endangered species. But the recovery success achieved by the Dian Fossey Gorilla Fund International and other conservation groups could rapidly slide back into dangerous territory if the virus does indeed begin to affect gorillas.
Gorillas and humans share about 98 percent of their DNA, and gorillas have contracted other respiratory diseases from humans, with fatal outcomes. Early in the coronavirus pandemic, several scientists shared a warning that the disease could pose a potential threat of extinction to the animals.
The loss of ecotourism dollars, the chief source of funds for gorilla conservation efforts, is expected to produce negative effects of its own. Officials in national parks in the affected regions have voiced concerns that the lack of this income stream could drive people in tourism-dependent economies to turn to poaching out of desperation. They foresee this entire cycle, once set in motion, significantly setting back their hard work.
Meanwhile, veterinary specialists and other conservation workers are on the alert for symptoms commonly understood to signal respiratory infections in gorillas: different patterns in chest movement indicating a change in breathing rate, a slowing down in movement, and lack of ability to keep pace with other gorillas on the move. Everyone hopes that given enough vigilance and care, the potentially devastating coronavirus can be stopped in its tracks before it reaches wild gorilla communities.