A passionate arts lover and philanthropist, Berkeley resident Louise Gund has a long history of supporting art institutions in and around the San Francisco Bay Area. The UC Berkeley Art Museum and Pacific Film Archive (BAM/PFA) is one such institution: in 2007, BAM/PFA presented a year-long exhibition of Asian art that featured a number of exceptional pieces from Gund's personal collection. These pieces, which included painting, embroidery, and sculpture, were offered to the museum on a long-term loan, along with other works of art on loan from the collection of Warren King.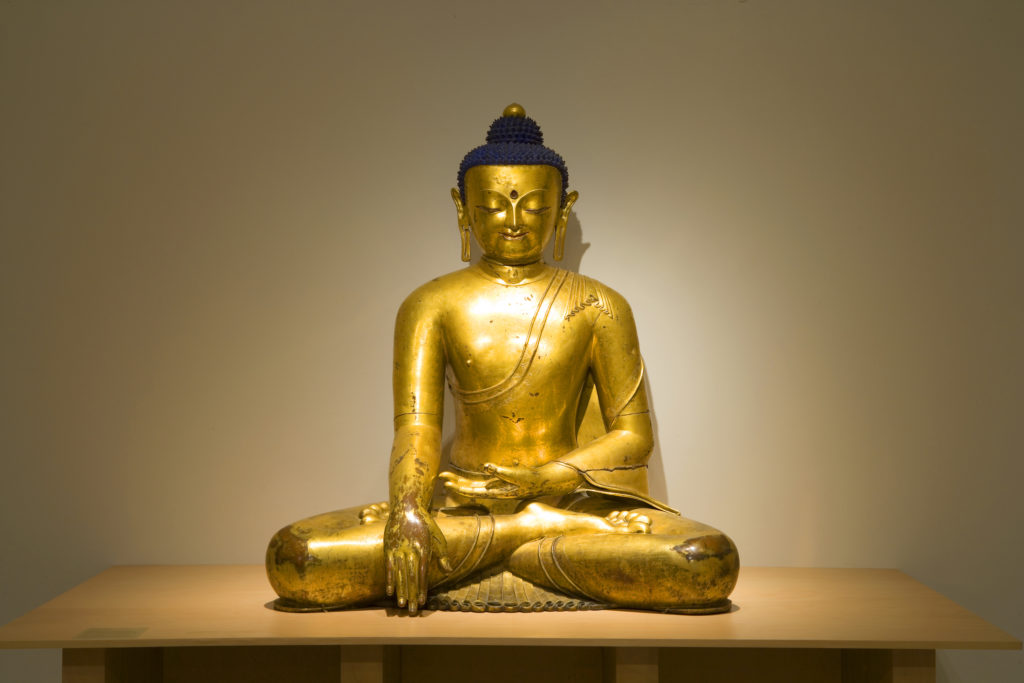 About the Exhibition
Titled Parting the Curtain: Asian Art Revealed, the 2007 exhibition was a unique showcase of some of the most important treasures from BAM/PFA's comprehensive and varied collection of historical Asian art. As emphasized by Julia M. White, the curator of the exhibition and the museum's senior curator of Asian art, one of the particular goals of Parting the Curtain was to highlight the incredible diversity—in terms of artistic production, people, and territory—that comprises the extremely broad category of Asian art. To this end, the exhibition featured works representing a wide geographical range, from India to Japan, and spanning a time period of more than 10,000 years.
To orient visitors, the exhibition was divided into five different thematic sections:
Buddhist Imagery of India and Tibet—This section showcased a variety of objects, including exquisite bronze statuary, that reflect the development of Buddhist religious art from third-century India and trace its journey to manifestations created in the Himalayas hundreds of years later. A profound sense of wisdom and compassion, the supreme values of Buddhism, can be perceived in the works, which included a 15th-century Tibetan gilt bronze Buddha called Bhaishajyaguru; and a rare 17th-century silk- and gold thread-embroidered portrait of the fifth Dalai Lama. All the works displayed in this section were on loan from Gund's personal collection, and the exhibition marked the first time they had ever been publicly shown together.
Tibetan and Buddhist Ritual Arts: The Bernard-Murray Tibetan Collection—The exhibition's exploration of Tibet continued in this thematic section, which showcased works from the Bernard-Murray Tibetan Collection. This major collection of Tibetan art and artifacts was acquired by American scholar and explorer Theos Bernard, who studied Tantric Buddhism and participated in religious activities on his journey to Tibet in 1939. The collection, which offers a unique glimpse of traditional Tibetan art and culture prior to Chinese influence, was given to UC Berkeley in 2004. Some of the artifacts on display in Parting the Curtain included two meditative "thangkas," traditional Tibetan paintings on cloth. The exhibit also included rare film footage of Tibetan ritual dance from the 1930s and an elaborately decorated horse saddle.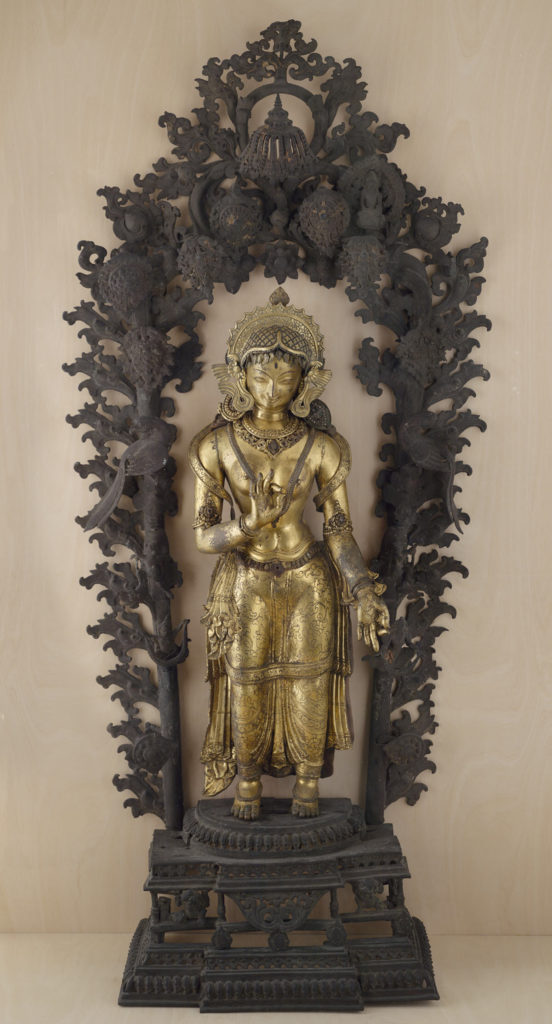 The Literati Tradition: Scholarly Pursuits in China and Japan—BAM/PFA boasts one of the country's finest collections of historical Chinese paintings, and several works from this collection—namely landscape paintings by Chinese literati—were on display in this section. The tradition of Chinese literati painting flourished in the hierarchical Confucian society of the 15th and 16th centuries, which emphasized a well-educated elite class and prioritized individual expression over realism or precision. Visitors to this section were able to see some of the best and most innovative examples of work from this tradition, such as The Zhiping Temple, a 1516 painting from Ming dynasty painter Wen Zhengming. This section also included a number of pieces from Japanese Nanga painters, including the 19th-century artists Chikuto Nakabayashi and Baiitsu Yamamoto, who adopted Chinese literati styles and practices into their own work.
Ideals of Beauty in India—Featuring a unique selection of sculptures, this section offered visitors a window into early Indian ideals of feminine beauty. Voluptuous qualities like large breasts, ample hips, and slender waists were frequently repeated motifs in early Indian poetry, paintings, and sculpture, and the sculptures and statuary presented in this section of the exhibition gave visitors the opportunity to see these ideals brought to life. One of the specific works featured was River Goddess, a curvaceous, eighth- or ninth-century stone figure that once blessed and purified visitors to a temple sanctum in Uttar Pradesh.
Art for the Afterlife: Chinese Tomb Culture—The final thematic section of the Parting the Curtain exhibition focused on art and objects from ancient Chinese tombs. Some of the museum's oldest artifacts, including glazed earthenware storage jars found in Neolithic Chinese tombs dating back to 10,000 BC, were on display in this section. Also on display were a selection of glazed ceramic figurative pieces from the later Han (206 BC – 220 AD) and Tang (618 – 907 AD) dynasties. These works were made for the grave and were not intended to be seen again in this world, only in the afterlife. However, they offer valuable insight into key aspects of the material culture of their time.