Few Broadway musicals are more endearing, nor more enduring, than Fiddler on the Roof. This beloved tale of a Jewish father's attempts to hold on to tradition, faith, and family in early 20th century Russia opened on Broadway in 1964. It would go on to become the first musical to be performed more than 3,000 times. Since its premiere, Fiddler on the Roof has been produced countless times all over the world and has been revived on Broadway no fewer than five times. Read on for an in-depth look at the 2015 Broadway revival, which critics praised for its thoughtful humanity and contemporary relevance.
The show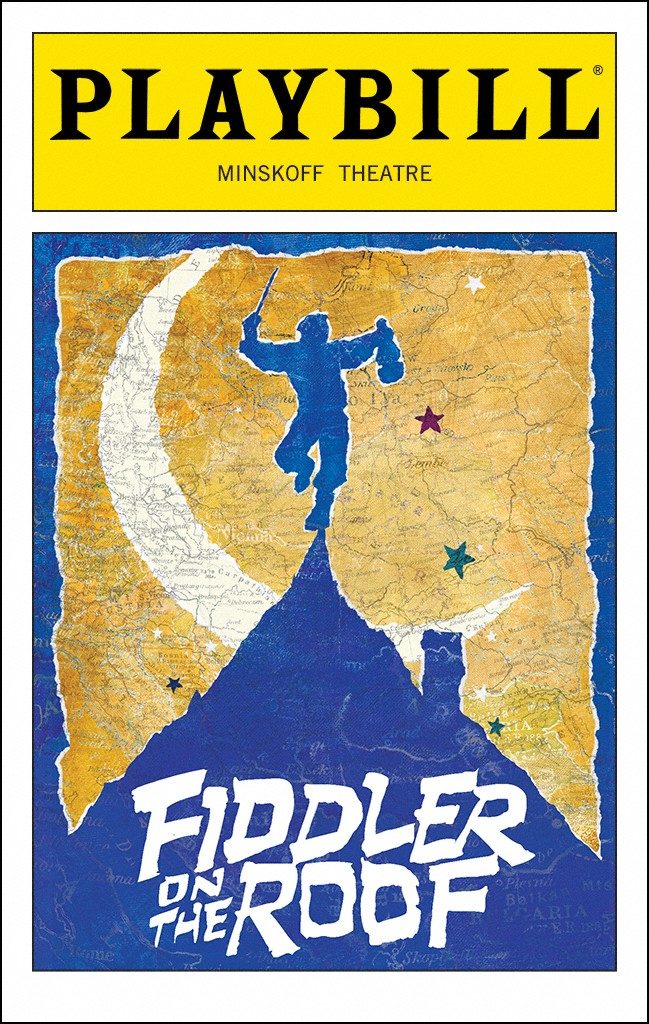 Fiddler on the Roof is centered on the larger-than-life character of Tevye, a Jewish milkman living in Anatevka, a shtetl (the Yiddish word for an Eastern European village with a large Jewish population) in pre-Revolution Russia. Though he is poor, Tevye has a huge appetite for life, and finds great joy in his faith, his family, and his community. However, the world around him is changing. Anti-Jewish sentiment is growing in Russia, and his three eldest daughters turn away from family-approved marriage prospects in favor of far less traditional suitors. Tevye must struggle to hold onto his relationship with God and his family, and to find a new place for himself in a more promising land.
The music
Some of Broadway's best-loved musical numbers are found in Fiddler on the Roof. The most memorable songs include "Tradition," the prologue with which Tevye and the company open the show; "Matchmaker, Matchmaker," which is sung by Tevye's three oldest daughters as they contemplate their future marriages; "If I Were a Rich Man," in which Tevye dreams of a different life; and "Sunrise, Sunset", a poignant number about the passage of time sung at the wedding of Tevye's eldest daughter.
The original creators
Fiddler on the Roof is based on a series of stories called "Tevye and his Daughters," which were written in Yiddish by Sholem Aleichem between 1894 and 1914. These tales were adapted a number of times—into a play, a film, and an early musical—before becoming the source material for Fiddler on the Roof. The original 1964 Broadway musical was created by composer Jerry Bock (music), songwriter Sheldon Harnick (lyrics), and playwright Joseph Stein (book), and featured direction and choreography by Jerome Robbins. The production received 10 Tony Award nominations and won nine, including the awards for best musical, score, book, direction, and choreography.
The creative team
The creative team behind the 2015 revival of Fiddler on the Roof are also responsible for some of the biggest revival hits that Broadway has seen in recent years, such as the Tony Award-winning productions of South Pacific (2008) and The King and I (2015). Helmed by director Bartlett Sher, the creative team also included music director Ted Sperling, scenic designer Michael Yeargan, costume designer Catherine Zuber, sound designer Scott Lehrer, and lighting designer Donald Holder. New dance and movement numbers, inspired by Jerome Robbins' original choreography, were created for the 2015 revival by renowned Israeli dancer and choreographer Hofesh Shechter, who has produced an extensive body of work for theatre, television, and opera.
The cast
The character of Tevye is the heart and soul of Fiddler on the Roof. Danny Burstein, a long-time Broadway veteran and five-time Tony Award nominee, was widely praised by critics for bringing tremendous charm, humanity, and depth of feeling to the character, which was also his first true leading role. In recognition of his excellent performance, Burstein was nominated for a Tony Award for Best Actor in a Musical, and won the Outer Critics Circle and Drama Desk Awards for Outstanding Actor in a Musical. Other top-billed cast members included Jessica Hecht as Tevye's wife, Golde; Alix Korey as the matchmaker Yente; and Alexandra Silber as Tevye's eldest daughter, Tzeitel.
The producers
Fiddler on the Roof's Tony Award winning and lead producers included Jeffrey Richards, one of the leading producers of plays and musicals on Broadway and in London's West End; the Chicago-based entertainment company Jam Theatricals; successful Broadway producer Louise Gund; and Jerry Frankel, a long-time producer who passed away in late 2018.
Critical and audience response
Fiddler on the Roof is always an audience favorite, so it is hardly surprising that the 2015 revival was a popular hit that ran for over 430 regular performances. However, critics were hugely positive about the production as well. They praised its excellent performances, including its particularly strong ensemble work; the thrilling new choreography from Hofesh Shechter; and the humor and humanity of its direction.
Critics and audiences alike were especially intrigued and surprised by director Bartlett Sher's use of a present-day framing device. We first see Tevye not as a turn-of-the-century peasant, but as a contemporary man in a bright red parka. A faded sign reveals that he is in the place where Anatevka once stood. This artistic choice was meant to highlight the political parallels between the world depicted in Fiddler on the Roof and the world we live in today. Variety lauded the scene as a "bold and powerful opener — and a break from traditional staging — that gives a fresh, spare and intimate perspective."
Thanks to the production's box office success, a national tour followed in 2018, playing in over 30 cities in its first year. In August 2019, it was announced that the touring production will continue for a second year, visiting 40 additional cities, including Austin, Miami, Boston, Houston, and more.