From July 26, 2018, to January 6, 2019, the iconic songs of The Go-Go's, the famed 1980s all-female rock band, could nightly be heard booming from the Hudson Theatre on Broadway. These classic tunes formed the soundtrack to Head Over Heels, a bold and brash new musical comedy celebrating love in all its infinite varieties. Over the course of its 164 performances, the exuberant show proved to be a crowd-pleasing hit, and is currently being licenced to schools and other drama groups. Read on to learn more.
The Show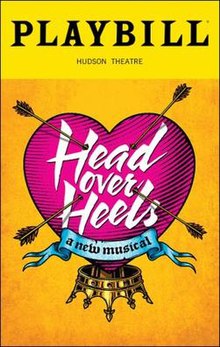 With its Elizabethan-inspired plot and fierce 1980s music, Head Over Heels is a delightfully absurd mash-up of posh and punk. Taking the form of a modern musical fairy tale, the storyline—adapted from the work of 16th-century poet Sir Philip Sidney—follows the adventures of an enchanted royal family who must find a way to save their beloved kingdom after hearing an oracle's prophecy of doom. On their extravagant journey, the family members face encounters replete with mistaken identities, jealous lovers, scandals, sexual awakening, and fluid gender identities. They ultimately learn to celebrate self-discovery and love in all its guises.
The Music
The heart and soul of Head Over Heels is its vibrant soundtrack of classic songs from The Go-Go's. An all-female American new wave band formed in LA in 1978, The Go-Go's are widely hailed as the most successful female rock band of all time. The band wrote their own songs and played their own instruments, and have sold over 7 million records. Some of The Go-Go's biggest hits are featured in Head Over Heels, including "We Got the Beat," "Heaven Is a Place on Earth," and track that inspired the title, "Head Over Heels."
The Creators
The creative team behind Head Over Heels is also responsible for some of the wildest recent hits on Broadway. Jeff Whitty, whose other work includes the Broadway smash hit Avenue Q and the Oscar-nominated film screenplay Can You Ever Forgive Me?, developed the concept and wrote the original book, while James Magruder was responsible for the story's adaptation from Sir Philip Sidney's narrative poem The Arcadia. Other key members of the creative team included director Michael Mayer, who directed the Tony Award-winning productions of Hedwig and the Angry Inch and Spring Awakening, and choreographer Spencer Liff, whose other credits include nine seasons of the TV show So You Think You Can Dance.
The Cast
Top-billed cast members of Head Over Heels included:
Andrew Durand (Musidorus)—Andrew Durand has appeared in a number of hits on Broadway and in London's West End, notably War Horse, Spring Awakening, and The Umbrellas of Cherbourg. Other companies he has performed with include The Public, Berkeley Rep, Guthrie, and the Bristol Old Vic.
Taylor Iman Jones (Mopsa)—A Bay Area native, Taylor Iman Jones made her Broadway debut in Groundhog Day after being in New York for just two months. Her other selected credits include Stage Kiss at the San Francisco Playhouse, Mary Poppins at the Berkeley Playhouse, and The Unfortunates at American Conservatory Theater.
Jeremy Kushnier (Basilius)—In addition to numerous roles on television shows such as Nurse Jackie, The Good Wife, and Person of Interest, Jeremy Kushnier has performed on Broadway many times. His selected Broadway credits include the roles of Ren in Footloose, Roger in Rent, and Tommy Devito in Jersey Boys.
Bonnie Milligan (Pamela)—Head Over Heels marks Bonnie Milligan's first time on Broadway, a debut she is thrilled to celebrate after originating the role of Pamela at the Oregon Shakespeare Festival. Her previous Off-Broadway credits include Gigantic at the Vineyard Theater, and Jasper in Deadland at the Prospect Theater.
Peppermint (Phythio)—Fans will know the established entertainer and recording artist Peppermint from her appearance on season nine of RuPaul's Drag Race. In Head Over Heels, Peppermint is making her Broadway debut as the first transgender woman to create a principal role.
The Producers
Head Over Heels' lead producers included Christine Russell and Louise Gund among others. Previously, Russell produced the Tony and Grammy Award-winning Beautiful: The Carole King Musical, while Gund produced the Tony Award-winning All the Way. Other producers of Head Over Heels included Rick Ferrari, and actors Donovan Leitch and Gwyneth Paltrow.
Critical and Audience Response
Head Over Heels enjoyed a hugely positive audience response. The show particularly resonated with audiences who applauded its socially progressive messages of acceptance, love, and joy, and praised the show as a much-needed inclusive fairy tale. The Village Voice summed up the audience response in its review of the show, writing, "Shrewd, funny, sexy, and with a glorious beat, Head Over Heels will have you flipping for joy."
Head Over Heels was also nominated for a number of awards—including a Drama League Award for Outstanding Production of a Broadway or Off-Broadway Musical and an Outer Critics Circle Award for Outstanding New Broadway Musical. In addition, Bonnie Milligan won the Theatre World Award for Outstanding Debut Performance for her role as Pamela.