In the last two decades, the lives of most working-class Americans have changed almost beyond recognition. This profound shift in working culture and the impact it has had on friendships, family relations, and livelihoods, is at the heart of Sweat, written by Pulitzer Prize-winner Lynn Nottage. Sweat made its Broadway debut in the spring of 2017. Read on to learn more about this deeply moving and timely play.
The Show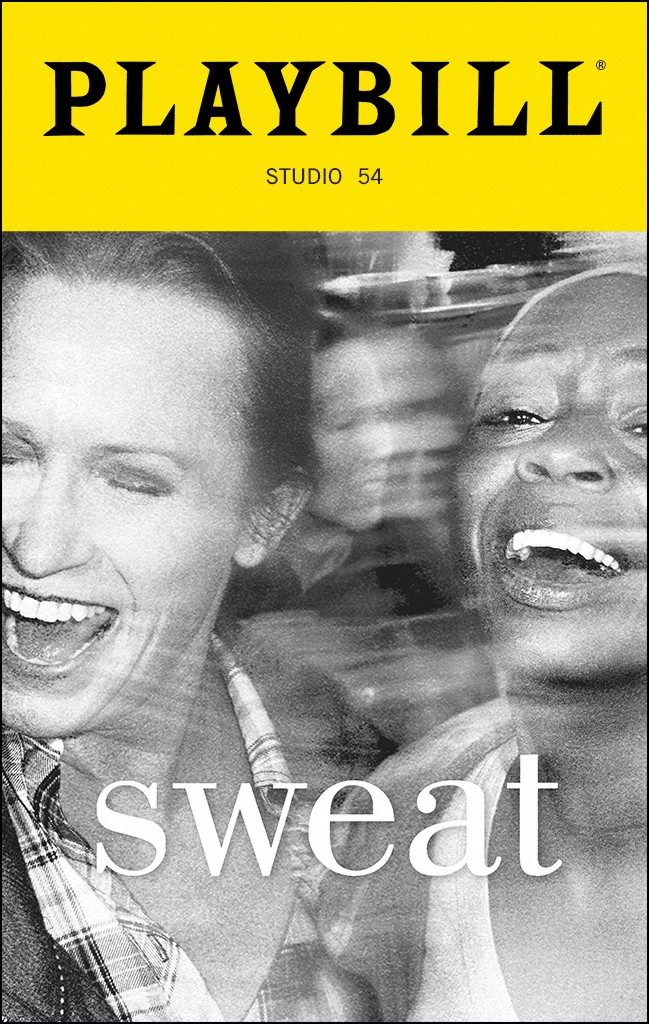 Sweat is set in the factory town of Reading, Pennsylvania, in 2000 and 2008; all the action unfolds at the local bar, which serves as a second home for the large cast of characters. The people we meet here are hardworking folks who have spent their lives together on the factory floor, believing that their jobs, their community, and their way of life will continue to go on the way they always have. But when layoffs and picket lines begin to threaten their work and their future, this group of friends and family must deal with divided loyalties and confront uncomfortable and surprising truths about themselves and each other. A timely reflection on race, class, and working lives in contemporary America, Sweat is a vitally important new play that gives a voice to people who are often forgotten or dismissed by the more powerful.
Sweat was originally co-commissioned by the Oregon Shakespeare Festival (OSF) and the Arena Stage in Washington, DC. The play premiered at OSF in July 2015 and subsequently ran at the Arena Stage in January 2016. In November 2016, the play began an off-Broadway engagement at the Public Theater; it was this production that transferred to Broadway's Studio 54 in March 2017.
The Playwright
A professor of playwriting at Columbia University, Lynn Nottage is one of the most important working playwrights in America today. Her work explores vital social issues and shines new light on themes and people that are all too often ignored. Her previous plays, which have been produced all over the world, include Intimate Apparel, which tells the story of an African American seamstress in early 1900s New York; Ruined, an unflinching look at the lives of women affected by civil war in the Democratic Republic of Congo; and By the Way, Meet Vera Stark, a journey through the life of a spirited African American maid and aspiring actress.
Lynn Nottage is the only woman to have twice received the Pulitzer Prize for Drama: she was awarded her first Pulitzer for Ruined in 2009 and her second for Sweat in 2017. Her many other awards and accolades include several Obie Awards, a Tony Award nomination, and the Susan Smith Blackburn Prize. Lynn Nottage made her Broadway debut in 2017 with Sweat.
The Creative Team
Sweat director Kate Whoriskey is a long-time collaborator of Lynn Nottage and an important figure in the play's development process. Previously, Nottage and Whoriskey worked together on Nottage's Ruined: to create the piece, they undertook a journalism-style research project, traveling to the Democratic Republic of Congo and conducting extensive interviews. For Sweat, their process was much the same. The two artists spent time in Reading interviewing as many people as possible, from government employees to factory workers to homeless shelter residents. These many interviews eventually gave rise to Sweat's story, and helped to flesh out its detailed character portrayals and authentic dialogue.
Other key members of Sweat's creative team were scenic designer John Lee Beatty, costume designer Jennifer Moeller, lighting designer Peter Kaczorowski, and sound designers Rob Milburn and Michael Bodeen.
The Cast
With the exception of one substitution (Alison Wright stepping in for Miriam Shor), the Broadway cast of Sweat was the same as the cast of the Public Theater production. Five members of the nine-person ensemble made their Broadway debut with Sweat: Carlo Albán (Oscar), Khris Davis (Chris), Will Pullen (Jason), Lance Coadie Williams (Evan), and Alison Wright (Jessie). Rounding out the cast were James Colby (Stan); Johanna Day (Tracey), who has performed on Broadway in shows such as Proof and August: Osage County; John Earl Jelks (Brucie), whose Broadway credits include Gem of the Ocean and Radio Golf; and Michelle Wilson (Cynthia), who was an understudy in the 2014 Broadway production of A Raisin in the Sun.
The Producers
Sweat's lead producers were Stuart Thompson and Louise Gund. Thompson's previous productions included King Charles III, Skylight, and The Curious Incident of the Dog in the Night-Time. Prior to Sweat, Gund was a lead producer of All the Way, Fiddler on the Roof, and Sylvia.
Critical and Audience Response
Over the course of its Broadway run, Sweat generated huge critical acclaim. Reviewers praised Sweat for its "minimal fuss and maximum grit… humor and abundant humanity" (Time Out New York); "insightfully observed characters" (Variety); "ripped-from-the-headlines social and political resonance" (New York Daily News), and for the "ambitious scope and fierce focus" of playwright Lynn Nottage (New York Times). The play was nominated for three Tony Awards and earned Nottage her second Pulitzer Prize.